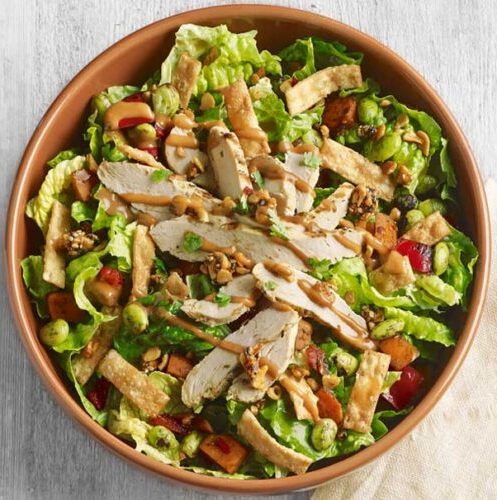 Panera Spicy Thai Chicken Salad
Copycat Panera Spicy Thai Salad with Chicken flavorful, yet healthy
Ingredients
2

Cups

sliced Chicken breast

2

Heads Romaine Lettuce

1

Cup

Carrots Cubed

1/2

Cup

Edamame Roasted

3/4

cup

Bell pepper Roasted and cut into cubes

2

Tbsp

Cilantro Chopped

1/4

Cup

Almonds Sliced

1/4

Cup

fried Wonton strips

2

Tbsp

Chucky Peanut Butter

2

Tbsp

Sesame Seed Oil

2

Tbsp

Toasted Sesame Seeds

1

Cup

Thai Chili Vinaigrette
Instructions
Roast the edamame and cubed bell peppers for 10 minutes if using the

oven

at 350 degrees on a grill or via broil in an oven for approximately 10 minutes until starting to look charred. Set aside.

Roast or

grill

the 2-3 chicken breast if you don't buy it already roasted and sliced and

slice

into strips. If oven roasting, we roasted ours on a cookie sheet for approximately 45 minutes, at 350 degrees, checking to make sure it doesn't burn. It is done when it is cooked through and slightly browned but not overly charred on the outside. Set aside.

Chop the Romaine lettuce into 1" sized squares and place in the large

salad bowl

.

Chop the carrot into small cubes the same size as the red peppers.

Chop the cilantro into small pieces and set aside.

Toss together everything except the dressing, sesame seeds, wontons, and chicken which will be toppings.

Mix the Thai chili vinagrette, sesame oil and peanut butter in a small bowl

Serve with the chicken breast, Thai chili vinaigrette mix and top with sesame seeds and wontons.
Video
Notes